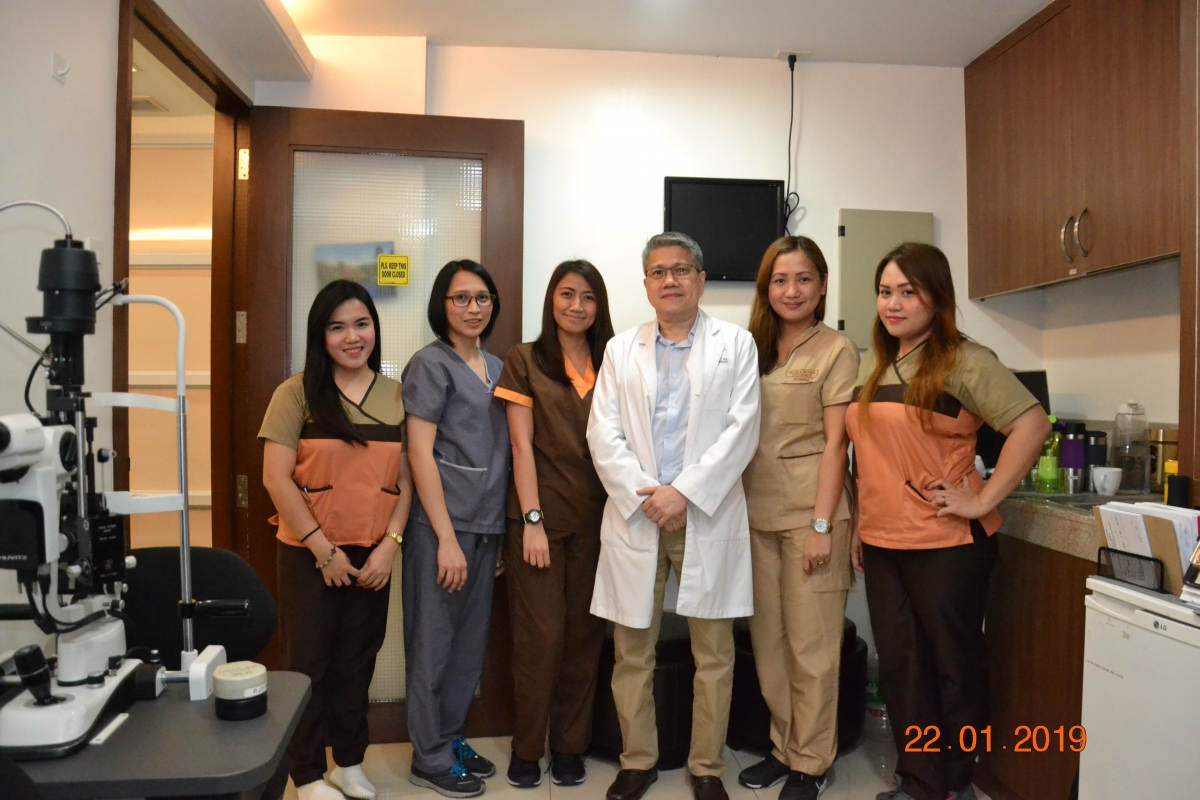 A Subspecialty Clinic whose focus is mainly disorders of the Retina, including Diabetic Retinopathy, Retinal Detachment, Macular Holes, Age Related Macular Degeneration, and Retinal Vascular Occlusive Diseases. 
Manila Retina Specialists was formed by Dr. Roberto Uy in 1995 when he came back from fellowship  training in the United States,  in order to serve the needs of the country for certified Retina Specialists.  At that time, there were only a handful of certified Retina doctors in the country. Hence, the need to form an Eye Clinic whose main focus is the Retina. We hold clinic at the following locations: 
1. UST Hospital Doctor's Clinic Rm 401, Vestibule Building
2. Manila Eye Specialists 1238 A Lacson St, Sampaloc Manila 1008
3. PerfectSight Eye Center, SM North Edsa, Northlink Building, Room 306-308
Being privileged in being able to study in the most advanced eye institutes in the country as well as abroad, it aims to provide state of the art Retina Surgery, and make it available to the people who need it most. One of its aims is also to educate patients, and the public with regards to Retinal Diseases, which have devastating consequences, especially if discovered late. 
Roberto N. Uy, MD
Dr. Uy   obtained his undergraduate and graduate degree from the University of Santo Tomas. He proceeded to specialize in Ophthalmology at the same Hospital, after which he was granted 2 Full Clinical Fellowships in Neuro-Ophthalmology  at the University of Texas Houston, and Retina and Vitreous Surgery at Texas Tech University in Lubbock, Texas, USA.
Aside from his clinical practice, he teaches medical students at the 3rd and 4th year level at UST. He also helps train Ophthalmology Residents and Fellows in Retina Surgery at the same University Hospital.  He also serves as Consultant at  PerfectSight, Inc, whose aim is to develop a world class Cataract and Retina Ambulatory Surgical Center. 
When not at work he enjoys travelling with his family. He also enjoys playing tennis.  
Licensure:
Philippine Board of Medicine License (7th Place) 
EFCFMG Certified
Fellow, Philippine Board of Ophthalmology
Member:
American Academy of Ophthalmology
VitreoRetina Surgery Society of the Philippines
Neuro-Ophthalmology Society of the Philippines
Education:
Doctor of Medicine, Cum Laude 
University of Santo Tomas
Bachelor of Science in Medical Technology, Magna Cum Laude
University of Santo Tomas
Graduate Training
Ophthalmology Residency University of Santo Tomas 
Clinical Neuro-Ophthalmology Fellowship
University of Texas Hermann Eye Center, Houston, Texas, USA
Clinical Fellowship Retina and Vitreous Surgery
Texas tech University , Texas, USA
Hospital Affiliations
University of Sto. Tomas Hospital 
España, Manila
Chinese General Hospital and Medical Center
Blumentritt, Manila
Hospital of Infant Jesus
Sampaloc, Manila
PerfectSight Eye Center
SM North EDSA, NorthLink Bldg (Above 711)